Walking Tacos Recipe
October 27, 2021
It's officially football season, and with football comes yummy foods like cheesy ranch and chicken dip or slow cooker bbq wings. As much as we love football, we love food more, so we combine the two for a tasty good time! If you're like us, you often have a crowd when there's a big game, for example, Michigan versus Michigan State. If you're looking for a crowd-pleasing recipe that is easy and delicious, try walking tacos.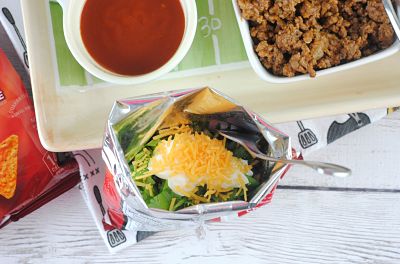 Walking Tacos Recipe
Ingredients:
1 pound ground beef
1/2 white onion, diced
1 oz taco seasoning, any brand
1/2 cup – 3/4 cup water
shredded lettuce
diced tomatoes
shredded cheese
sour cream
green onions
salsa
any other additional taco toppings
Mini Doritos snack bags (you can buy them in a 6 pack at your local grocery store), Frito Corn Chips would also work great!
Directions:
Brown the onion and ground burger and drain the grease
Stir in the taco seasoning and 1/2-3/4 cup of water into the burger. Cover and let the taco seasoning simmer for 10-15 minutes.
Once the taco meat has finished cooking, remove from heat and let your guests make their walking tacos. Give each a bag of chips to open and gently crush.
Top the crushed chips with taco meat, lettuce, cheese and other favorite taco toppings and enjoy!