10 Reasons You'll Love Petoskey
August 14, 2019
Of course, we love Petoskey, our beautiful Northern Michigan city, nestled on gorgeous Little Traverse Bay. Here are ten reasons we think you'll enjoy Petoskey too!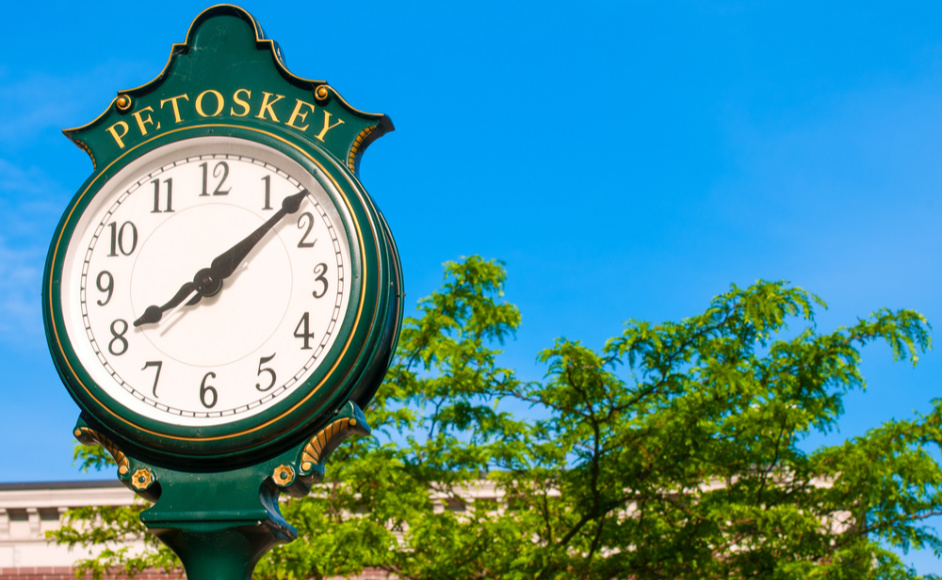 10 Reasons to Visit Petoskey
1. Petoskey stones – Let's get this obvious one out-of-the-way first. Petoskey stones! Petoskey stones galore! Rockhounds are crazy for this fossilized stone that features a unique hexagon pattern that's only visible when wet or polished. This stone that we get our name from is found only along the shores of Northern Michigan, and is the official state stone of Michigan. When you visit Petoskey, you can comb the beaches for your own to take home as souvenir. You can also purchase stones already polished and even made into jewelry.
2. Hemingway was here – The Nobel Prize-winning author, Ernest Hemingway, spent his childhood summers on Walloon Lake, near Petoskey. His fondness for adventure and the great outdoors was fueled by his experiences in the woods and waters of Northern Michigan. Later, those summer days would influence his writings. Today you can visit many of those places in and around Petoskey that inspired Hemingway's writing.
3. Little Traverse Bay – The cold, sparkling blue waters of Little Traverse Bay are a summer playground. Boating, swimming and sailing draw in folks who enjoy the water. Others come to take in the peaceful view. The beach-side towns of Petoskey and Harbor Springs offer plenty to do away from the water with their unique shops and restaurants.
4. Underwater Crucifix – Winter also draws in visitors to Petoskey. One of our most unique winter events is the annual viewing of the cross underwater. Once Lake Michigan has frozen over, visitors walk out to a large hole cut in the ice, where a crucifix lies 22 feet below the water. It's the only time the crucifix can be viewed without diving underwater. The 11-foot, 1,850 pound cross is made of Italian marble and features a 5-foot 5-inch figure of Christ. It was placed as a memorial to those who lost their lives on the water.
5. The Breakwall – Our breakwall may be our most well-known and most photographed landmark. It fascinates locals as well as folks from far and wide. Initially constructed in the 1890s to protect passenger boats off-loading tourists, today it protects the City Marina. It's also a great place to take a stroll, watch the sunset and even jump off into Lake Michigan if you're brave enough!
6.Victorian Architecture – The Bay View Community on the shores of Little Traverse Bay, just east of Petoskey, has its roots in the Methodist Camp Meeting Movement. Today the private resort community offers many opportunities to the public including the longest-running music festival in the United States. Many visit just to see the historic Victorian cottages lining the walks. There are more than 400 homes on the National Historic register in Bay View.
7. Little Traverse Wheelway – If you enjoy amazing views of Lake Michigan and cycling, The Little Traverse Wheelway was made for you! You'll bike 26 miles from Charlevoix to Petoskey to Harbor Springs on this mostly paved bike path. We may be biased, but we think this is one of the best bike trails in the country!
8. Winter Sports – With three ski resorts nearby and the Petoskey Winter Sports Park featuring ice skating, sledding, and hockey, it's the place to be when the snow flies in winter. Spend your mornings playing in the snow and warm up in town with an afternoon of shopping and dining.
9. Petoskey State Park – Camp at Petoskey State Park, and you'll have fantastic views of the water and access to a beautiful sandy swimming beach on Little Traverse Bay. You'll also be close to hiking trails and just minutes from everything in downtown Petoskey.
10. Wine country – You'll find over 14 local vineyards, wineries, and craft breweries in the Petoskey area. Spend the afternoon wine tasting as you enjoy the beautiful scenery. Northern Michigan's location next to the lake makes it a prime location for producing the grapes that make the area's unique wines.
Be sure to check out these other great Petoskey inspired posts: