Easy Summer Coleslaw Recipe
May 27, 2018
After spending much of the weekend out on Crooked Lake I can easily say that summer is (almost) finally here!! The sand bar was busy and the kids had a fantastic time jumping in and out of the water. I got in but only walked around until the water warmed up. Hard to believe there was ice on the lake only 3 weeks ago!
With summer finally making an appearance we are all about grilling and easy foods. We love eating out on the boat but if we plan on grilling at home, we like to do food prep and make sure everything is ready to go once we get off the lake. During the summer we love eating salads. I love a large bowl of fresh greens from the farmers market but sometimes I want a little something extra to go with our meals. I've found making homemade coleslaw is a huge hit (surprisingly) and even my pickiest eater likes it. We try to follow a low carb diet and coleslaw is a perfect addition to our meals.
The great thing about this recipe? If you don't feel like shredding all the ingredients by hand, simply buy a bag of pre-made slaw mix from the produce section. I'll admit it, I've done that countless times. Either way you choose make it, you can't go wrong.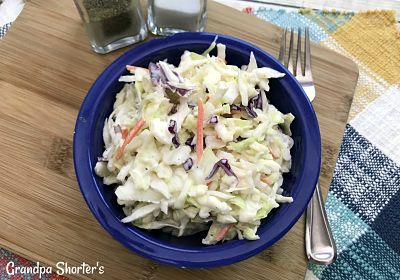 Easy Summer Coleslaw Recipe
Ingredients:
1 medium head of cabbage, shredded
1 large carrot, shredded
1/2 C. red cabbage, shredded
1/2 C. mayonnaise
1 tbsp. white vinegar
2 tbsp sugar (you can also substitute a low carb sweetener if you prefer)
Salt & pepper to taste
Directions: 
Combine the cabbage and carrots.
Add in the mayonnaise, vinegar, sugar and salt & pepper, mixing well.
Cover and place in the fridge to let the flavors combine.
Remove from fridge prior to serving.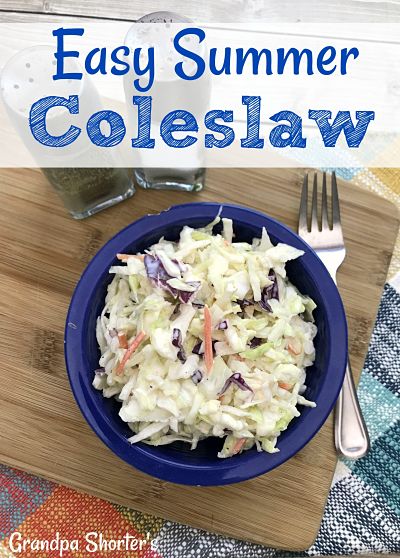 Looking for other summer recipes?